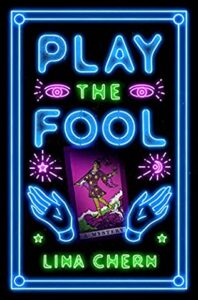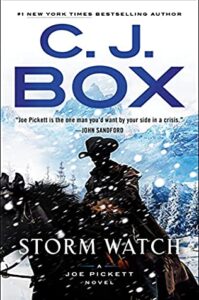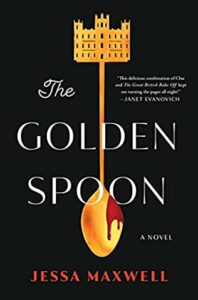 Lots of new mysteries!  Click on title to check availability and request.
A Gentle Murderer  by Dorothy Salisbury Davis
First published in 1951, this solid if somewhat dated mystery opens on a  sweltering August evening in New York City. Father Duffy, assistant pastor of St. Timothy's, one of Manhattan's largest Catholic parishes, is winding up his stint in the confessional when a  final parishioner comes in, a  hammer in his hand. "I think I killed someone," he tells the priest, and goes on to reveal clues to his identity and that of his victim.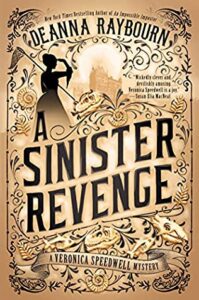 A Sinister Revenge  by Deanna Raybourn , Veronica Speedwell mystery #8
After receiving a cryptic, but threatening letter, Lord Templeton-Vane invites Veronica and her beau, Stoker, to a dinner party to help lure out the criminal.
A Mansion for Murder  by Frances Brody, Kate Shackleton series #13
1930, Yorkshire. Intrigued by a mysterious letter from a stranger offering important information, Private Investigator Kate Shackleton arrives in the mill village of Saltaire. At nearby Milner Field mansion, overshadowed by its reputation for misfortune and untimely deaths, she expects to meet the letter writer, Ronnie Creswell. Kate soon learns that Ronnie has been killed.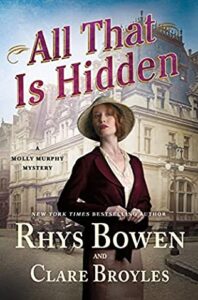 All That is Hidden  by Rhys Bowen, Molly Murphy series #19
"Retired" detective and police captain's wife Molly Murphy Sullivan tangles with Tammany Hall.
Red Queen  by Juan Gomez-Jurado
After a personal trauma, Antonia Scott, whose ability to reconstruct crimes and solve baffling murders is legendary, refuses to continue her work until she is drawn into a macabre, ritualistic murder investigation by a desperate police officer with his own agenda.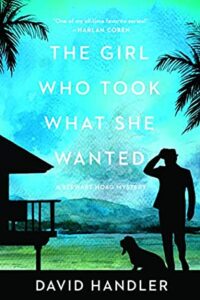 The Girl Who Took What She Wanted  by Daniel Handler, Stuart Hoag mystery #14
In this new installment of the Edgar award-winning Stewart Hoag mystery series, the ghostwriting sleuth investigates a trail of murder amidst Hollywood's rich and famous.
The Golden Spoon  by Jessa Maxwell
During her annual televised baking competition on her Vermont estate, celebrated baker Betsy Martin, hailed as "America's Grandmother," finds murder in the mix when a body is discovered, and everyone is a suspect.
Murder Under a Red Moon   by Harini Nagendra, A 1920's Bangalore Mystery #2 
When new bride Kaveri Murthy reluctantly agrees to investigate a minor crime to please her domineering mother-in-law–during the blood moon eclipse, no less–she doesn't expect, once again, to stumble upon a murder.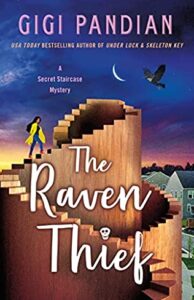 The Raven Thief  by Gigi Pandian, a Secret Staircase mystery  #2
Taking part in a mock seance to remove any trace of her cheating ex-husband, famous mystery author Corbin Colt, from her life, Tempest Raj is stunned when his dead body crashes the party, and when suspicion falls on her beloved grandfather, she must conjure up the real killer. 
Now You See Us  by Balli Kaur Jaswal
When a Filipina maid is arrested for murdering her female employer, three Filipina other domestic workers—Corazon, Donita and Angel—are shocked into action, using their moxie and insight to piece together the mystery of what really happened—and exposing the secrets of Singapore's elite along the way.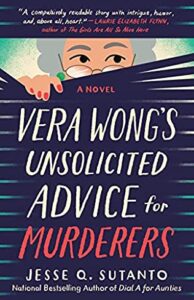 Vera Wong's Unsolicited Advice for Murderers  by Jesse Q. Sutanto
When she discovers a dead man in the middle of her tea shop, Vera Wong, a suspicious Chinese mother with time on her hands, calls the police but not before swiping the flash drive from the body, setting a trap for the killer that becomes complicated by unexpected friendships with her customers.
Storm Watch  by C.J. Box, Joe Picket series #23
After finding the frozen and mutilated body of a man killed near the location of a mysterious high-tech structure, Wyoming game warden Joe Pickett finds his investigation obstructed by federal agents, extremists and the governor and must find a way around them to stop the oncoming storm of peril.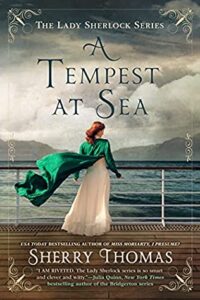 A Tempest at Sea by Sherry Thomas, Lady Sherlock novel #7
After feigning her own death in Cornwall to escape from Moriarty's perilous attention, Charlotte Holmes goes into hiding. But then she receives a tempting offer: Find a dossier the crown is desperately seeking, and she might be able to go back to a normal life. Her search leads her aboard the RMS Provence. 
Play the Fool  by Lina Chern
A cynical tarot card reader seeks to uncover the truth about her friend's mysterious death.
If you need more reading recommendations, call us at 725-5242 — we are happy to help you find your next great read!