Hopeful:  A Message Defining this Year's Annual Fund Drive
Hope is around every corner here at Curtis. We're hopeful that our community of readers will continue to be as generous as you are able in support of the Annual Fund, and if possible, consider an additional gift for our newest initiative – a resolution of the American Library Association — eliminating late fines and fees at Curtis to remove any and all barriers to library use.
As we continue to expand library services both in-person and virtually, know that it's your participation, feedback and support that make Curtis the busy community center it has become.
Please reach out, stay in-touch, safely visit the library, and stay well. Thank you for supporting your community library.  If you have any questions about how your support at this time will benefit the Curtis Community, please reach out to Joyce Fehl, Development and Marketing Manager at jfehl@curtislibrary.com.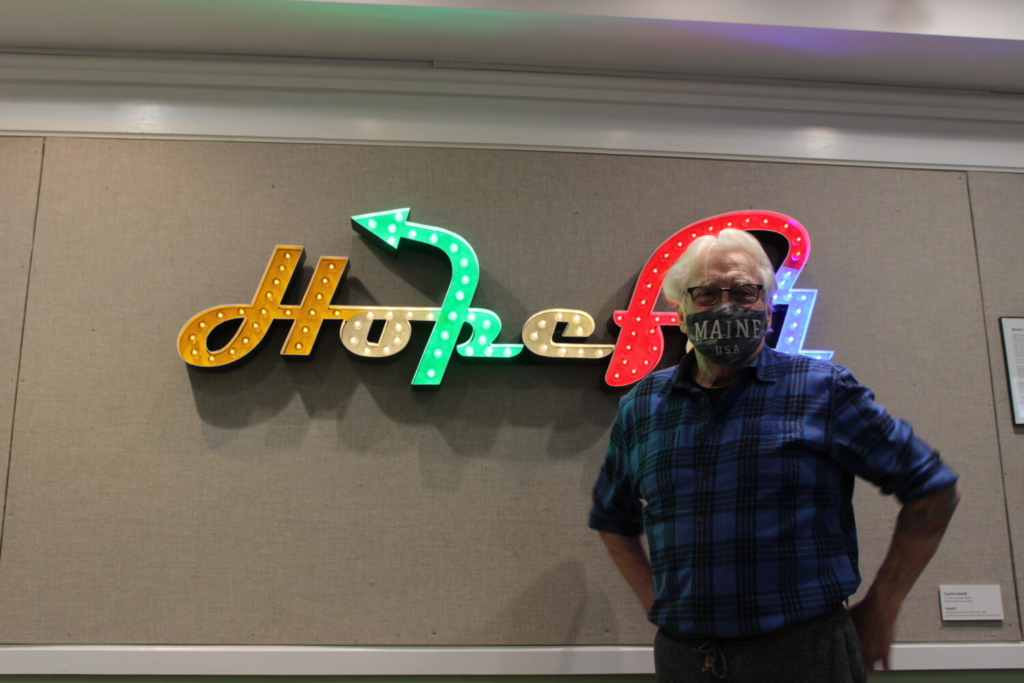 Lewiston native and Brunswick High School alum Charlie Hewitt graciously donated HOPEFUL — this positive public art piece now hanging in our lobby (pictured above, with Charlie) and can also be found atop the Speedwell Projects building in Portland and affixed to Bates Mill No. 5 in Lewiston. Charlie's prior sculptures, paintings and prints have been seen locally at Bowdoin College Museum of Art and ICON. Visit CharlieHewitt.com to see more of his prolific work. Watch Charlie talk about "The Art and Responsibility of Being Hopeful" here

All donors to the WILLIAM J. CURTIS ANNUAL GIVING SOCIETY will be invited in to attend a locally-prepared dinner in front of the fireplace in the original library in February, 2021.
PARTICIPATION BEGINS WITH A $1,000 GIFT to Curtis (payable annually or through the Literati Monthly Giving Program.)
LITERATI MONTHLY GIVING
Thank you for participating in this monthly giving program. It's an easy way to set up a gift that works within your budget, and continues to give to Curtis all year long! FLIP THIS CARD to set up your monthly gift.
GIFTS IN HONOR OF
Honor a special person in your life, by making a donation to go towards book purchases. FLIP THIS CARD to make a donation.
NOTE: Before you complete the secure PayPal checkout, please click Add special instructions to the seller and tell us:
The honoree's name
The type of book to be purchased (children, teen or adult)
Subject areas of interest
The occasion/reason for the gift
MEMORIAL GIFTS
Gift in memory of a loved one. FLIP THIS CARD to make a memorial gift.
GIFTS OF STOCK
If you are interested in making a gift of stock to Curtis, FLIP THIS CARD for details. If you have any questions in advance of making a gift, please contact Joyce Fehl at jfehl@curtislibrary.com or 207.607.4157
Our UBS Stock Transfer Numbers:
DTC 221 UBS Financial Services
FBO Brunswick Public Library
UBS Account #MH 18170-52
Federal ID# 01-6000787
Our UBS contact in Portland is:
Paula J. Raleigh
UBS Financial Services, Inc.
1 City Center, 10th Floor
P.O. Box 7350
Portland, ME 04112
Phone: 207-791-5539
Email: paula.raleigh@ubs.com
PLANNED GIVING
Securing the Library's Future. Honoring Your Legacy.
We welcome the opportunity to talk with you and your family about the library's endowment and/or planned giving and invite you to contact Development and Marketing Manager Joyce Fehl at 207.607.4157 or jfehl@curtislibrary.com
BUSINESS PARTNERSHIPS
Support Curtis - Support our Community of Readers
Over 900 people a day come through Curtis' doors. Learn more about Business Partnership and Sponsorship Opportunities that will get your name before our nearly 300,000 annual visitors who value buying local as much as borrowing books. Contact Development and Marketing Manager Joyce Fehl at 607.4157 or jfehl@curtislibrary.com.