Recent Genealogy Posts:
Help us spend some genealogy funds!
Curtis Library recently received a gift specifically to support the community's genealogists. Before spending those funds we would like your suggestions about resources you would like to see the Library obtain- books, magazines, genealogy databases?
Please email your suggestions to Library Director Liz Doucett at edoucett@curtislibrary.com
We will let you know what new resources will be heading this way.
Thank you!
Free DNA Research Help Now Available
Would you like assistance researching your family tree, interpreting DNA results, finding a long lost relative, or uploading your DNA to public sites that allow police access for solving cold cases and identifying the deceased? If circumstances have prevented you from knowing much about your family history, DNA testing is a great way to break down those brick walls. To arrange an appointment, please send an email to genealogyhelp@curtislibrary.com and our volunteer will schedule an appointment to meet with you here at the library. *Please note that this free service is provided by a volunteer and not Curtis Library staff. No personally identifiable information about you or your research will be collected by the Library.
Home Access to Ancestry.com ends after December 31 – but you can still access from the Library!
The Maine State Library Ancestry.com subscription was temporarily made accessible from anywhere in the state (so from your own home) during COVID closures. That expanded access will expire after December 31.
You can still access Ancestry.com from any public library or school in the state, as the subscription uses the IP address of these locations to provide you with free access. Please visit our newly relocated Genealogy & Local History room in the 1904 Building (the room beyond the Magazines & Newspapers Room) to access Ancestry, or any of the other seating areas around the building. We have public access computers on the 2nd floor if you don't bring your own device with you.
The new link to access from the library is here: https://www.ancestrylibrary.com
Looking for the Genealogy and Local History collections? They have moved!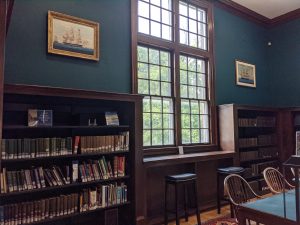 As part of our efforts to update our use of the different spaces in the Library, we have moved the Genealogy & Local History collections to a new (or old, depending on how you look at it) space in the original 1904 building. The collections are now located in the room behind the Periodicals & Newspapers Room (the door on the right as you come up the stairs from the lobby). The room has a fresh coat of paint and staff from the Bowdoin Museums were kind enough to re-hang our maritime art after the painting was completed. We've added some stools to utilize the counter at the Pleasant Street windows as well, for extra seating.
The Times Record microfilms are still located up on the 2nd floor, so stop by the Help Desk if you need to use the film reader. Films for 1850 through 1979 are now digitized and available here: http://curtis.advantage-preservation.com/