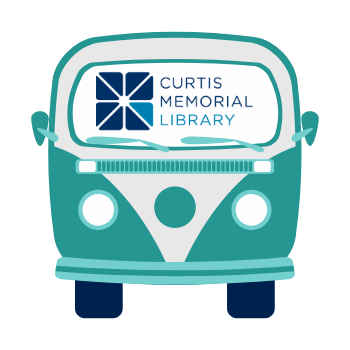 Contact-Free Curbside Pickup of Books, DVDs, Audiobooks, and Other Materials
Hours of Service: Monday – Friday 9:30 – 6:00 & Saturday 9:30 – 1:00 beginning June 1.
Reserve items from the Curtis collection by phone: 725-5242 or online here.

We will notify you when you items are ready – by email if we have on file, or by phone if we do not.

Give us a call when you arrive at the pickup area outside the Middle Street entry at 725-5242.

We will bring your items out in a bag with your last name on it, and will put it on a table in the pickup area.

You are all set to take your items – please practice social distancing while in the pickup area!
Q & A:
How long will it take to get my order ready?

It could take up to 24 hours, but hopefully it will be faster! We pull items for holds several times a day and are closed on Sundays. We will notify you when your order is ready to be picked up.

Can I order items from other libraries during curbside service?

Not at this time. Check for updates on Inter-library Loan and we will be sure to publicize it when it becomes available again!

What about overdue fines – can I pay those at curbside?

We are not charging any overdue fines at this time and to keep everyone safe, staff will not collect any money at curbside. 

How many items can I place on hold?

We will have a 10 item hold limit (per card) for the time being. 

How long will the borrowing periods be?

All items  – including items in our Bestseller Express collection will loan for 3 weeks. 

Can I request items from the Library of Things?

Not at this time. Check for updates on this!

Where do I park – will staff put items in my car?

There will be a few designated spots with signage in the front (Middle Street) – otherwise park on the street or in the lot on Union Street and walk to the tent near the Middle Street entry. Unless it is necessary for patrons with mobility concerns, staff will not put items into cars. If you need assistance, please let us know when you call to say you have arrived!