3D Printing at Curtis
Costs:
$0.20 per gram of filament used, with a minimum charge of $1.
Currently Available Filament:
PLA and PETG filament in a variety of colors (please visit the Help Desk to see available filament color options).
To Submit a Print Order:
Please send your design file to helpdesk@curtislibrary.com or bring it to the Help Desk on a USB drive. Design files should be in the STL or GCode file formats. If you are submitting a file that you found online (and did not create yourself) it would be very helpful if you could also send us a link to the design on the web, as there are occasionally recommended print settings included by the design creator, that help ensure a successful print job. 
The maximum size object we can print is 25×21×21 cm (9.84″×8.3″×8.3″) other jobs may need to be printed in pieces.
The Fine Print:
Users will not be permitted to use the Library's 3D printer to create material that is:
prohibited by local, state or federal law
unsafe, harmful, dangerous, or an immediate threat to the well-being of others
construed as having the intent to harm
obscene or otherwise inappropriate for the Library environment
By submitting content or objects, the user agrees to assume all responsibility for, and shall hold the library harmless in, all matters related to patented, trademarked, or copyrighted materials.
The library is not responsible for any damage, loss, or security of data arising from the use of its computers, equipment or network, nor for the functionality or quality of content produced on the 3D printer.
The library may need to add additional supports to the 3D construct to improve chance of successful printing. Responsibility for removing rafts and supports is up to the user. The library cannot guarantee model quality or stability, or confidentiality of designs.
Only designated library staff will have direct access to the 3D printer.
The Library reserves the right to refuse any 3D print request.
All other library policies apply when using the library's 3-D printer or printing services, including policies addressing user behavior, acceptable use and computer use.
Cost: There is no charge to use the 3D printer. However, users are responsible for the costs of consumable materials (eg. 3-D printing filament). Except in
cases of mechanical failure, objects failing to fully print, errors in the print process, or other factors not in a customer's control, customers are expected to pay for completed objects and may not demand a new print in place of the original due to dissatisfaction with color, scale, quality, design, required support material, or other options pre-selected by the customer. Curtis Memorial Library reserves the right to change fees at
any time.
Printing priority is based on a first-come, first served basis, and is limited to one print order in progress per customer, at a time. If the library has several jobs to print when an order is submitted, it might take several days to print a customer's order; same-day printing cannot be guaranteed. Priority will be given to library programs or activities.
All printing jobs will be paused when the library is closed ***
Items must be picked up by the individual who submitted the printing request and design file.
Only materials (eg. filament) provided by or specifically approved by the Library are to be used in printing.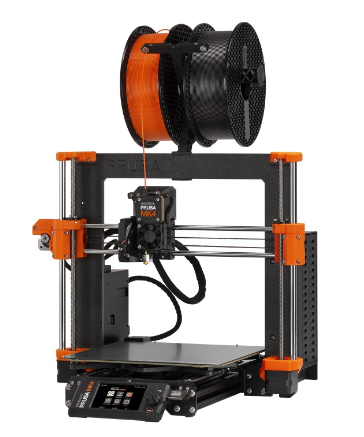 Our 3D printer is a PRUSA MKS3+
Interested in creating or using free design files to print 3D objects? Here are some great sites to visit: