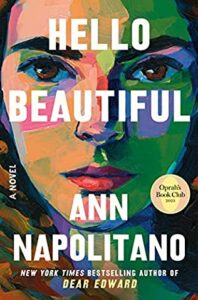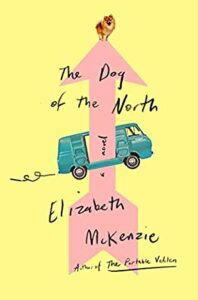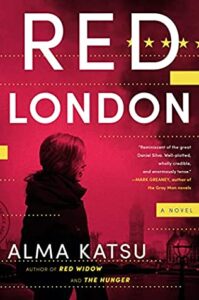 Here are brand new titles we have added to the Curtis collection.  Click on the title to check availability and reserve today!
The Dog of the North by Elizabeth McKenzie
There will be a road trip in the Dog of the North …There will be injury and peril… There will be a dog named Kweecoats and two brothers who may share a toupee. There will be questions. Why is a detective investigating her grandmother, and what is "the scintillator"? And can Penny recognize a good thing when it finally comes her way. Quirky characters, heartwarming.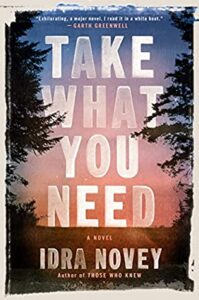 Take What You Need by Idra Novey
Set in the Allegheny Mountains of Pennsylvania, with two unforgettable female voice, following the estrangement and reconciliation of stepmother and daughter, Jean and Leah. Leah always felt her path diverged from Jean's and left her hometown without looking back, making a life for herself in the city as a young mother and academic. Now that Jean's gone, Leah must return to sort through all Jean has left behind. What she wasn't expecting to find was Jean's studio filled with metal sculptures born from the scraps of Pennsylvania's industrial history–its beauty challenging all she had initially thought of her hometown, and her own skepticism for why Jean had held onto it so dearly. A refreshing portrait of complex and resilient family relationships, and ultimately challenges our ideas about success in order to reaffirm values we all hold dear: beauty, hope, and family.
The Last Russian Doll by Kristen Loesch
A debut about secrets, revenge, and redemption that follows three generations of Russian women, from the 1917 revolution to the last days of the Soviet Union, and the enduring love story at the center. In a faraway kingdom, in a long-ago land… …Rosie lived peacefully in Moscow and her mother told her fairy tales. Magical stories that could have been the folklore of their people, or her mother's own imaginings– Rosie was never sure. But one summer night, all of that came abruptly to an end when her father and sister were gunned down. Now, a decade later and studying at Oxford University, Rosie has a fiance who knows nothing of her former life. When her reclusive mother dies and leaves behind a notebook full of eerie handwritten tales, Rosie returns to Russia and uncovers a devastating family history that spans the 1917 Revolution, the siege of Leningrad, Stalin's purges, and beyond.
Hello Beautiful by Ann Napolitano
Awarded a college basketball scholarship away from his childhood home silenced by tragedy, a young man befriends a spirited young woman who welcomes him into her loving, loud, chaotic household, in the new novel by the author of Dear Edward. Relationship fiction, Oprah's book club March 2023.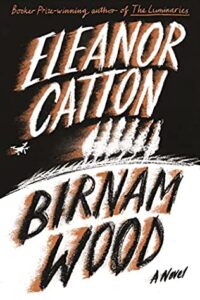 Birnam Wood by Eleanor Catton
Five years ago, Mira Bunting founded a guerrilla gardening group: Birnam Wood. For years, the group has struggled to break even. Then Mira stumbles on an answer, a way to finally set the group up for the long term: a landslide has closed the Korowai Pass, cutting off the town of Thorndike. Natural disaster has created an opportunity, a sizable farm seemingly abandoned. But Mira is not the only one interested in Thorndike.  Psychological suspense.
The Lost English Girl  by Julia Kelly
Liverpool, 1935: Raised in a strict Catholic family, Viv Byrne knows what's expected of her: marry a Catholic man from her working-class neighborhood and have his children. However, when she finds herself pregnant after a fling with Joshua Levinson, a Jewish man with dreams of becoming a famous Jazz musician, Viv knows that a swift wedding is the only answer. Five years later and on the eve of World War II, Viv is faced with the impossible choice to evacuate her young daughter, Maggie, to the countryside estate of the affluent Thompson family. However, tragedy strikes when Viv learns that the countryside safe haven she sent her daughter to wasn't immune from the horrors of war. Historical fiction.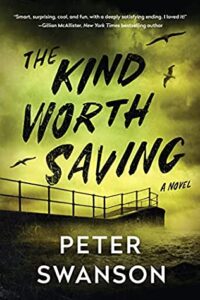 The Kind Worth Saving by Peter Swanson
When Joan turns up at private investigator Henry Kimball's office asking him to investigate her husband, he can't help feeling ill at ease. The sight of her stirs up a chilling memory: he knew Joan in his previous life as a high school English teacher, when he was at the center of a tragedy. What should be a simple case of infidelity becomes much more complicated when Kimball finds two bodies in an uninhabited suburban home with a FOR SALE sign out front. Disturbing, suspenseful.
The London Séance Society by Sarah Penner
1873. At an abandoned cháteau on the outskirts of Paris, a dark séance is about to take place, led by acclaimed spiritualist Vaudeline D'Allaire. Known worldwide for her talent in conjuring the spirits of murder victims to ascertain the identities of the people who killed them, she is highly sought after by widows and investigators alike. Lenna Wickes has come to Paris to find answers about her sister's death, but to do so, she must embrace the unknown and overcome her own logic-driven bias against the occult. When Vaudeline is beckoned to England to solve a high-profile murder, Lenna accompanies her as an understudy. But as the women team up with the powerful men of London's exclusive Séance Society to solve the mystery, they begin to suspect that they are not merely out to solve a crime, but perhaps entangled in one themselves.  Historical mystery with LGBTQ characters.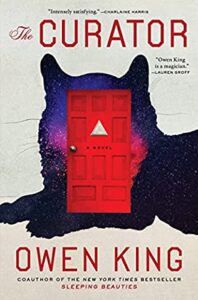 The Curator by Owen King
Searching for the truth behind the secret she's long concealed, Dora, a former domestic servant, is given curatorship of The National Museum of the Worker by her lover, a place that isn't at all what it seems as she unravels a monstrous conspiracy that brings her to the edge of worlds. A Dickensian fantasy of illusion and charm where cats are revered as religious figures, thieves are noble, scholars are revolutionaries, and conjurers are the most wonderful criminals you can imagine. World-building fantasy fiction.
River Spirit by Leila Aboulela
Follows an embattled young woman coming of age during the Mahdist War in nineteenth-century Sudan, and illuminates the tensions that shape her course: between Britain and Sudan, Christianity and Islam, colonizer and colonized. In River Spirit, Aboulela gives us the unforgettable story of a people who–against the odds and for a brief time–gained independence from foreign rule through their willpower, subterfuge, and sacrifice. Intricately plotted historical fiction.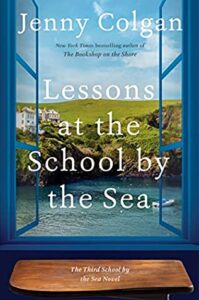 Lessons at the School by the Sea by Jenny Colgan, School by the Sea series #3
School is out, following a bit of saucy scandal at Downey House… Beloved high school teacher Maggie Adair had been comfortably, if somewhat ambivalently, engaged to her dependable long-distance boyfriend Stan. But in the heat of summer, Maggie's attraction to her colleague David McDonald has caught fire. Now both are facing an uncertain future as they try to figure out how to stay committed to their careers–and each other. Meanwhile, the girls of Downey House–mercurial Fliss, glamorous Alice, and shy, hard-working Simone–have had long summers at home, which weren't quite the respite they had been hoping for. But the new school year is thankfully here, and it will bring new pupils and lots of fresh challenges for students and teachers alike at the school by the sea. Heartwarming relationship fiction.
The Lost Americans by Christopher Bollen
A young woman finds herself in the crosshairs of powerful and very dangerous enemies when she travels to Cairo to uncover the truth about her brother's mysterious death. Haunting thriller with a strong sense of place.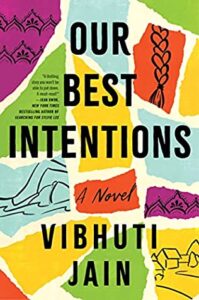 Our Best Intentions by Vibhuti Jain
An immigrant family gets caught in the middle of a criminal investigation in this pulsating debut, perfect for readers of Everything I Never Told You and Ask Again, Yes.  Coming of age, immigrant story.
Red London by Alma Katsu, Red Widow series #2
Following a suspicious attack on Russian oligarch Mikhail Rotenberg's property in a tony part of London, MI6 needs CIA operative Lyndsey Duncan to cozy up to the billionaire's aristocratic British wife, Emily Rotenberg. Fortunately for Lyndsey, there's little to dissuade Emily from taking in a much-needed confidante. Even being one of the richest women in the world is no guarantee of happiness. Complex spy fiction.
The Farewell Tour by Stephanie Clifford
It's 1980, and Lillian Waters is hitting the road for the very last time. Jaded from her years in the music business, perpetually hungover, and diagnosed with career-ending vocal problems, Lillian cobbles together a nationwide farewell tour featuring some old hands from her early days playing honky-tonk bars in Washington State and Nashville, plus a few new ones. She yearns to feel the rush of making live music one more time and bask in the glow of a packed house before she makes the last, and most important, stop on the tour: the farm she left behind at age ten and the sister she is finally ready to confront about an agonizing betrayal in their childhood.
If you need more reading recommendations, call us at 725-5242 option 4.  We are always happy to help you find your next great read!