cloudLibrary allows you to read ebooks or listen to audio books on your own device — Android or Apple phones or tablets.  Here is […]
Now that we are open for browsing, we have restarted the Bestseller Express.  This is a collection of popular books, sponsored by the Curtis […]
Information on the Child Tax Credit, provided by Consumer Financial Protection Bureau
Advance Child Tax Credit (CTC) Basics
Authorized by congress and signed by the President in the American Rescue Plan Act
The expansion gives more money to more families with children than the previous CTC

Increases credit amount (highest […]

Reading Captain Underpants or Super Diaper Baby often leaves kids rolling around with laughter and parents rolling their eyes. These nonfiction books about the gas we pass, scat, and more may satisfy both audiences.
Animal Scat and Stuff Like That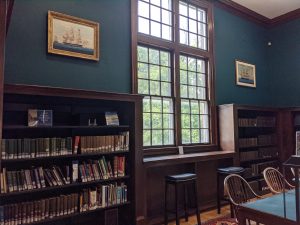 As part of our efforts to update our use of the different spaces in the Library, we have moved the Genealogy & Local History collections to a new (or old, depending on how you look at it) space in the original 1904 […]
Are you familiar with CareerCenter of Maine? Maine CareerCenters provide a variety of employment and training services at no charge for Maine workers and businesses. Whether you are looking to improve your job qualifications, explore a different profession, find a […]
Now that we are open for browsing, we have restarted the Bestseller Express.  This is a collection of popular books, sponsored by the Curtis Friends, and available […]
NEED TECH HELP? Bryan and Clint both have appointments available for July. You can choose to meet in-person, or over the phone or Zoom, if you prefer.
Help we can provide includes:
Troubleshooting — learning to use new apps or programs on your device […]
Kids of all ages are invited to join our Summer Reading Challenge! What you read is up to you!
Picture Books