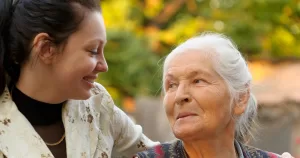 Are you an older adult with questions about staying in your home as you age? Do you have a loved one with dementia? Curtis is hosting two programs that will be of interest to anyone who is aging or has an aging loved one.  Both programs are in the Morrell Meeting Room.
Aging in Place Presentation Tuesday, November 15 at 12noon
The Marti Stevens Interactive Improvisational Theater (MSIIT), in partnership with Spectrum Generations of Central Maine, has been awarded a 2022 AARP Community Challenge grant. The group will perform scenarios about the challenges many Maine citizens 50+ years of age encounter as they live and age in their communities.
Each scenario will be followed by an opportunity for the audience to ask questions of the players 'in character' and to come up with solutions to the challenges presented.
Understanding and Responding to Dementia Behavior Wednesday, November 16 at 12noon
Behavior is a powerful form of communication and is one of the primary ways people living with dementia communicate their needs and feelings as the ability to use language is lost. However, some behaviors can present real challenges for caregivers to manage. Join us to learn to decode behavioral messages, identify common triggers, and learn strategies to help manage some of the most common behavioral challenges of Alzheimer's disease.  Presented by the Alzheimer's Association.
Dementia Resources in the Curtis' Collection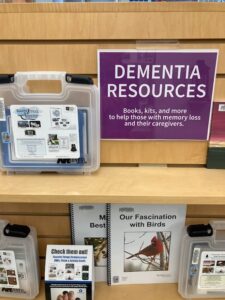 Are you planning a holiday visit with a loved one who has dementia?  Curtis lends materials for people with dementia and their caregivers. The materials are perfect for a family visit with a loved one. Perhaps a child could connect with a grandparent with one of our Favorite Things Reminiscence Kits.  The kits have a DVD slide show along with 32 photo cards and 8 activity cards. Each kit covers a different theme:  Springtime, Autumn, The Great Outdoors, Cats, Dogs, and the 1950s.  While people with Alzheimer's disease or other dementias may struggle with short-term memory, they often retain long-term memory.  The reminiscence kits can help you engage with a loved one as they share memories of a favorite pet or activity. The kits are created by MEternally.
We also have a collection of Reading2Connect books.  These books designed to compensate for the cognitive changes that some older adults experience. Titles retain the integrity of adult literature and the content is thoughtful and meaningful to adults of all ages. Abundant images and highly readable text make these books suitable for a range of abilities. Titles span an array of cultural and religious topics. These books can also provide a way to engage with your loved one.  Books are created by Reading2Connect.
Visit our display of Dementia Resources on the second floor.  For more information, call the help desk at 725-5242 option 4.