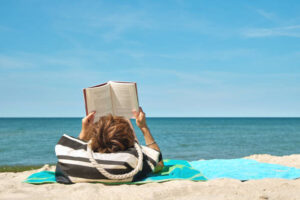 Although Adult Services is not doing a summer reading challenge with game board, we would like to challenge you to read outside your comfort zone and perhaps discover some new books.
So, here are your three reading challenges for July:
Read a work of fiction that has fewer than 200 pages.  These little gems can be perfect to enjoy on a rainy afternoon or a morning at the beach. Here are some of my favorites: 
The Fur Person by May Sarton (1957).  May Sarton was a poet, novelist, memoirist and cat lover who lived in York, Maine at the end of her life. In this charming story, she relates the evolution of her own cat – from a Cat – About – Town to a genuine Fur Person.  A Fur Person is a cat who has decided to live with humans in a relationship that is mutually respectful and affectionate.
Of Mice and Men by John Steinbeck (1937). The story of George and Lenny, two displaced farm workers who move from place to place in California during the Depression.
A Psalm for the Wild-Built by Becky Chambers (2021). This is a "gentle" science fiction novel about the relationship between a sentient robot and a monk who travels and prepares tea for people.
Read a novel that has been translated into English.
Balzac and the Little Chinese Seamstress by Dai Siji, translated from French by Ina Rilke (2001).  This novel is based and the experiences of the author, who was born in China, and sent to the countryside for "re-education" in the 1970s.  He and his best friend discover a stash of Western classic literature, which they secretly read, and share with another young person – the little seamstress.
Out Stealing Horses by Per Petterson, translated from Norwegian by Anne Born (2005). An early morning adventure out stealing horses leads to the tragic death of one boy and a resulting lifetime of guilt and isolation for his friend, in this moving tale about the painful loss of innocence and of traditional ways of life that are gone forever.
The Devotion of Suspect X by Keigo Higoshino, translated from Japanese by Alexander O. Smith with Elye J. Alexander (2012). This is the first in the Detective Galileo series.  Yasuko is a lonely math teacher who helps his lovely neighbor Yasuko kill her abusive ex-husband and cover up the crime. The police need the help of the brilliant physicist Manabu Yukawa, known as Detective Galileo, to solve this crime.
Visit our displays for more short fiction and translated works.
Read a romance!
If you have never read a romance, why not try one this summer?  The formula is simple:  there will be a happily ever after ending for the couple (or at least, "happily for now"). Here are some newish romances I recommend:
Book Lovers by Emily Henry (2022). Agreeing to a holiday escape to the country, literary agent Nora keeps running into a bookish, hardheaded, arrogant editor she knows from Manhattan, and wishes she didn't, even as she discovers they have more in common than previously thought.
Flatshare by Beth O'Leary (2019).  After a bad breakup, Tiffy Moore needs a place to live, fast and cheap. Desperation makes her open-minded, so she answers an ad for a flatshare. Leon, a night shift worker, will take the apartment during the day, and Tiffy can have it nights and weekends. He'll only ever be there when she's at the office. In fact, they'll never even have to meet…
Shipped by Angie Hockman (2021).  This is the classic "enemies to lovers" trope. A workaholic marketing manager who is forced to go on a cruise with her arch-nemesis when they're up for the same promotion.
Happy Reading!