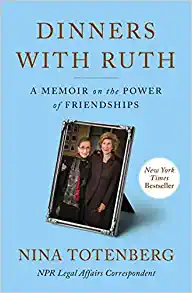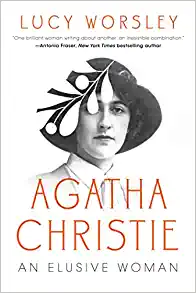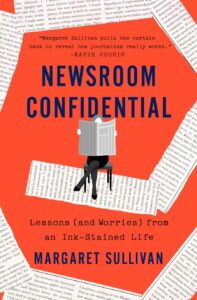 We had added lots of new nonfiction titles.  Click on a title to check availability and request.
Foodtopia: Communities in Pursuit of Peace, Love and Homegrown Food by Margot Anne Kelley (Aug 2022)
Here is the story of five back-to-the-land movements, from 1840 to present day, when large numbers of utopian-minded people in the United States took action to establish small-scale farming as an alternative to mainstream agriculture. Then and now, it's the story of people striving to live freely and fight injustice, to make the food on their table a little healthier, and to leave the planet less scarred than they found it. Margot Anne Kelley details the evolution of food-centric utopian movements that were fueled by deep yearnings for unpolluted water and air, racial and gender equality, for peace, for a less consumerist lifestyle, for a sense of authenticity, for simplicity, for a healthy diet, and for a sustaining connection to the natural world.
Agatha Christie: An Elusive Woman by Lucy Worsley (Sept 2022)
Why did Agatha Christie spend her career pretending that she was "just" an ordinary housewife, when clearly she wasn't? Her life is fascinating for its mysteries and its passions and, as Lucy Worsley says, "She was thrillingly, scintillatingly modern." She went surfing in Hawaii, she loved fast cars, and she was intrigued by the new science of psychology, which helped her through devastating mental illness. So why–despite all the evidence to the contrary–did Agatha present herself as a retiring Edwardian lady of leisure? She was born in 1890 into a world that had its own rules about what women could and couldn't do. Lucy Worsley's biography is not just of a massively, internationally successful writer. It's also the story of a person who, despite the obstacles of class and gender, became an astonishingly successful working woman. With access to personal letters and papers that have rarely been seen, Lucy Worsley's biography is both authoritative and entertaining and makes us realize what an extraordinary pioneer Agatha Christie was–truly a woman who wrote the twentieth century.
Folk Music: A Bob Dylan Biography in Seven Songs by Greil Marcus (Oct 2022)
Across seven decades, Bob Dylan has been the first singer of American song. As a writer and performer, he has rewritten the national songbook in a way that comes from his own vision and yet can feel as if it belongs to anyone who might listen. In Folk Music, Greil Marcus tells Dylan's story through seven of his most transformative songs. Marcus's point of departure is Dylan's ability to "see myself in others." Like Dylan's songs, this book is a work of implicit patriotism and creative skepticism. It illuminates Dylan's continuing presence and relevance through his empathy-his imaginative identification with other people. This is not only a deeply felt telling of the life and times of Bob Dylan, but a rich history of American folk songs and the new life they were given as Dylan sat down to write his own.
Dinners with Ruth: A Memoir on the Power of Friendships by Nina Totenberg (Sept 2022)
Four years before Nina Totenberg was hired at NPR, where she cemented her legacy as a prizewinning reporter, and nearly twenty-two years before Ruth Bader Ginsburg was appointed to the Supreme Court, Nina called Ruth. A reporter for The National Observer, Nina was curious about Ruth's legal brief, asking the Supreme Court to do something revolutionary: declare a law that discriminated "on the basis of sex" to be unconstitutional. In a time when women were fired for becoming pregnant, often could not apply for credit cards or get a mortgage in their own names, Ruth patiently explained her argument. That call launched a remarkable, nearly fifty-year friendship.
Blood and Guts: How Tight Ends Save Football by Tyler Dunne (Oct 2022)
There is no profession in sports like the NFL tight end. Here, great American tight ends share countless harrowing, never-before-told stories.
Newsroom Confidential: Lessons (and Worries) From an Ink-Stained Life by Margaret Sullivan (Oct 2022)
Over her four decades of working in newsrooms big and small, Margaret Sullivan has become a trusted champion and critic of the American news media. In this bracing memoir, Sullivan traces her life in journalism and how trust in the mainstream press has steadily eroded. With her celebrated mixture of charm, sharp-eyed observation, and nuanced criticism, Sullivan takes us behind the scenes of the nation's most influential news outlets to explore how Americans lost trust in the news and what it will take to regain it.
Forever Home: How We Turned our House into a Haven for Abandoned, Abused, and Misunderstood Dogs-and Each Other by Ron Danta, Danny Robertshaw and Larry Lindner (Oct 2022)
From the stars of 'Life in the Doghouse' on Netflix and founders of one of the most recognizable rescue organizations in the world, Finding Our Forever Home is part memoir, part care-and-keeping-of-rescue-dogs, with a heartwarming, compassionate voice and a message of acceptance, kindness, and, of course, love.
This is Not My Cat: Feline Friends Who Picked Their Humans by Stevie Holcomb (Nov 2022)
It's happened to all of us: we fall asleep alone and wake up cuddling a cat. But that isn't our cat. We don't own a cat. Of course, that hasn't stopped him from breaking in and finding the most comfortable bit of the linen closet to claim as his own. Whether it's our next-door neighbor's tabby who always appears in our yard or a ragdoll who has somehow slipped through the open window on the second floor, cats have a way of ending up in our lives (and cupboards) when we least expect it. This Is Not My Cat is a collection of stories and photos of the cats around the world who have charmed their ways into our lives.
Mr. B: George Balanchine's 20th Century by Jennifer Homans (Nov 2022)
Arguably the greatest choreographer who ever lived, George Balanchine was one of the cultural titans of the twentieth century. His radical approach to choreography reinvented the art of dance and his richly imaginative ballets made him a legend. Yet, Balanchine's life was as dramatic as his art, coinciding with some of the biggest historical events of his time. Nearly forty years after his death the full scale of Balanchine's achievement remains unexplored. Jennifer Homans, who studied with Balanchine and has had unprecedented access to his papers and many of those who knew him, has researched every facet of Balanchine's life and times.
Chip War: The Fight for the World's Most Critical Technology by Chris Miller (Oct 2022)
You may be surprised to learn that microchips are the new oil–the scarce resource on which the modern world depends. Today, military, economic, and geopolitical power are built on a foundation of computer chips. Virtually everything–from missiles to microwaves –runs on chips, including cars, smartphones, the stock market, even the electric grid. Until recently, America designed and built the fastest chips and maintained its lead as the #1 superpower, but America's edge is in danger of slipping, undermined by players in Taiwan, Korea, and Europe taking over manufacturing. Now, as Chip War reveals, China, which spends more on chips than any other product, is pouring billions into a chip-building initiative to catch up to the US. At stake is America's military superiority and economic prosperity.
Fight Like Hell: The Untold History of American Labor by Kim Kelly (Apr 2022)
Teen Vogue columnist and independent labor reporter Kim Kelly excavates that untold history and shows how the rights the American worker has today–the forty-hour workweek, workplace-safety standards, restrictions on child labor, protection from harassment and discrimination on the job–were earned with literal blood, sweat, and tears.
If you would like more reading recommendations, call us at 725-5242 — we are always happy to help you find your next great read.