We have just added some brand new titles to cloudLibrary – as well as popular older titles.  CloudLibrary allows you to read ebooks or listen to audio books on your own device — Android or Apple phones or tablets.  Here is the link to information on our website, if you are new to cloudLibrary.
Once you have installed the app, follow the prompts to choose your country, state, and library, and then enter your library bar code number. After your library card has been authenticated, you are ready to search and borrow!
Audiobooks and Ebooks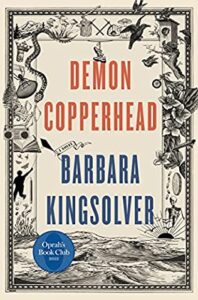 Demon Copperhead by Barbara Kingsolver (Oct 2022)
The teenage son of an Appalachian single mother who dies when he is eleven uses his good looks, wit, and instincts to survive foster care, child labor, addiction, disastrous loves, and crushing losses.
The Revolutionary: Samuel Adams by Stacy Schiff (Oct 2022)
With high-minded ideals and bare-knuckle tactics, Adams led what could be called the greatest campaign of civil resistance in American history. Stacy Schiff returns Adams to his seat of glory, introducing us to the shrewd and eloquent man who supplied the moral backbone of the American Revolution.
Hatchet Island by Paul Doiron, Maine Game Warden Mike Bowditch mystery #13 (June 2022)
A call for help from a former colleague leads Maine game warden investigator Mike Bowditch and his girlfriend Stacey Stevens on a sea kayaking trip to a research station far off the coast.
The Grimkes: The Legacy of Slavery in an American Family by Kerri K. Greenidge (Nov 2022)
Sarah and Angelina Grimke–the Grimke sisters–are revered figures in American history, famous for rejecting their privileged lives on a plantation in South Carolina to become firebrand activists in the North. Their antislavery pamphlets, among the most influential of the antebellum era, are still read today. Yet retellings of their epic story have long obscured their Black relatives. In The Grimkes, award-winning historian Kerri Greenidge presents a parallel narrative, indeed a long-overdue corrective, shifting the focus from the white abolitionist sisters to the Black Grimkes and deepening our understanding of the long struggle for racial and gender equality.
Lucy by the Sea by Elizabeth Strout (Sept 2022)
Former married couple now lifelong friends, New Yorkers Lucy Barton and William, as a panicked world goes into lockdown, hunker down in a little house in Maine on the edge of the sea where they are faced with fear, struggles and isolation as well as hope, peace and possibilities.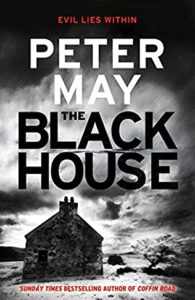 The Blackhouse by Peter May, Lewis Trilogy #1 (2018)
When a grisly murder occurs on a Scottish island, Edinburgh detective Fin Macleod must confront his past if he is ever going to discover if the killing has a connection to another one that took place on the mainland.
Ebooks
The Extraordinary Life of an Ordinary Man: Memoir by Paul Newman (Nov 2022)
Several years before he died in 2008, Paul Newman commissioned his best friend to interview actors and directors he worked with, his friends, his children, his first wife, his psychiatrist, and Joanne Woodward, to create an oral history of his life. After hearing and reading what others said about him, Newman then dictated his own version of his life.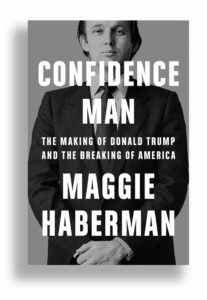 Confidence Man: The Making of Donald Trump and the Breaking of America by Maggie Haberman (Oct 2022)
The Pulitzer-Prize-winning New York Times reporter chronicles the rise of our 45th president, from his days as a New York City real estate developer to vanguard of a new norm-shattering era in American political history.
Fuzz: When Nature Breaks the Law by Mary Roach (Sept 2021)
Join Mary Roach on an investigation into the unpredictable world where wildlife and humans meet. As she discovers, the answers are best found not in jurisprudence but in science: the curious science of human-wildlife conflict, a discipline at the crossroads of human behavior and wildlife biology.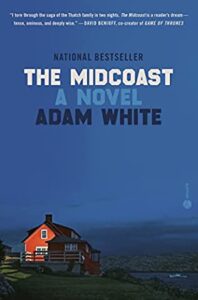 The Midcoast by Adam White (June 2022)
Recently returned to a tourist haven on the coast of Maine, Andrew, a high school English teacher, is envious of his former friend Ed Thatch's extravagant new lifestyle until he stumbles upon the truth, finding his envy turning to horror as the true story of the Thatches begins.
Seed to Harvest (the Complete Patternist Series) by Octavia Butler
The complete Patternist series-the acclaimed science fiction epic of a world transformed by a secret race of telepaths and their devastating rise to power. Includes Wild Seed (1980),  Mind of my Mind (1977),  Clay's Ark (1984) and Patternmaster (1976).
Mad Honey by Jodi Picoult and Jennifer Finney Boylan (Oct 2022)
Her life upended when her husband revealed a darker side, Olivia MacAfee and her teenage son Asher move back to her New Hampshire hometown for a new beginning until Asher is implicated in the death of his girlfriend and she realizes he's hidden more than he's shared with her.
The Last Campaign: Sherman, Geronimo and the War for America by H.W. Brands (Nov 2022)
Bestselling historian and Pulitzer-prize finalist H. W. Brands follows the lives and battles of General William Tecumseh Sherman and Apache warrior Geronimo to tell the story of the Indian Wars and the final fight for control of the American continent.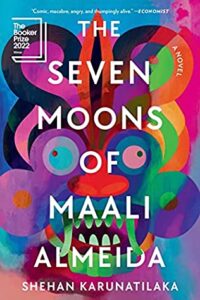 The Seven Moons of Maali Almeida by Shehan Karunatilaka (Nov 2022)
This is a searing, mordantly funny, state-of-the- nation satire set amid the murderous mayhem of Sri Lanka beset by civil war. Colombo, 1990. Maali Almeida, war photographer, gambler and closet queen, has woken up dead in what seems like a celestial visa office. His dismembered body is sinking in the Beira Lake and he has no idea who killed him. At a time when scores are settled by death squads, suicide bombers and hired goons, the list of suspects is depressingly long, as the ghouls and ghosts who cluster around him can attest. But even in the afterlife, time is running out for Maali. He has seven moons to try and contact the man and woman he loves most and lead them to a hidden cache of photos that will rock Sri Lanka. Ten years after his prizewinning novel Chinaman established him as one of Sri Lanka's foremost authors, Shehan Karunatilaka is back.The Seven Moons of Maali Almeida is a scathing, rip- roaring epic. It proves that the best fiction can offer the deeper truth.
Audiobooks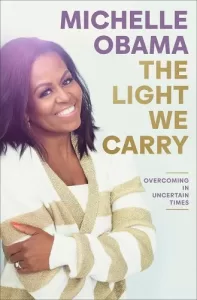 The Light We Carry: Overcoming in Uncertain Times by Michelle Obama (Nov 2022)
Michelle Obama offers readers a series of fresh stories and insightful reflections on change, challenge, and power, including her belief that when we light up for others, we can illuminate the richness and potential of the world around us, discovering deeper truths and new pathways for progress. Drawing from her experiences as a mother, daughter, spouse, friend, and First Lady, she shares the habits and principles she has developed to successfully adapt to change and overcome various obstacles–the earned wisdom that helps her continue to "become".
In the Heart of the Sea: The Tragedy of the Whaleship Essex by Nathaniel Philbrick (2015)
In 1819, the 238-ton Essex set sail from Nantucket on a routine voyage to hunt whales. Fifteen months later the Essex was rammed and sunk by an enraged sperm whale. Fearing cannibals on the islands to the west, the 20-man crew set out in three small boats for South America, almost 3,000 miles away. Three months later, only eight were left alive. This book shares a fantastic saga of survival and adventure, steeped in the lore of the whaling tradition, with deep resonance in literature and American history, and in the life of the Nantucket community.
American Demon: Eliot Ness and the Hunt for America's Jack the Ripper by Daniel Stashower (Sept 2022)
Eliot Ness investigates the Cleveland Torso Murderer, who left thirteen bodies scattered across the city in the 1930s in a historical true crime story from the biographer, historian and award-winning author of The Hour of Peril.
If you need help using cloudLibrary, call us at the help desk: 725-5242 option 4.  We are happy to help!