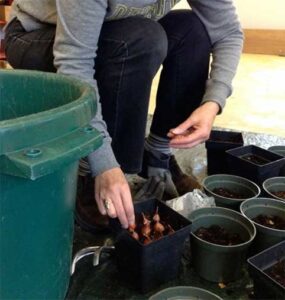 We are coaxing flower bulbs to bloom inside this winter and you can too!
Please stop by the Youth Services Desk or upstairs Help Desk to get your free bag of five Tete a Tete daffodil bulbs and detailed instructions on forcing. Bulbs planted now will bloom in March or April.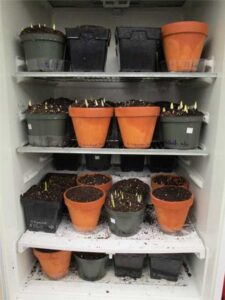 There are lots of ways to force hardy bulbs, like daffodils, which need a winter-like period of cold and dark.  We are lucky to have an empty fridge to put the bulbs in to give them that period of cold and dark.  Ideally, the bulbs are kept at 41 – 48 degrees Fahrenheit for 8 to 10 weeks.  If you don't have a fridge, you can put them in a box in your unheated garage or cool basement.
There's nothing like a splash of blooming color when the world is grey outside. Keep watching our blogs for updates on our bulbs and let us know how yours progress.
Enjoy!
Sponsored by Cornerstones of Science.