The weather outside is…..frightful!  So, you might be in the mood for some light-hearted reading.  Here is a list of feel good fiction: books that are upbeat, heartwarming or funny. Some new titles as well as a few old favorites.  Click on titles to check availability and request.
Starting Now by Debbie Macomber, Blossom Street series #10 (2013) 
After she is laid off, high-powered lawyer Libby Morgan, with no job prospects in sight, volunteers at a hospital where she meets a handsome doctor and rediscovers the joy of knitting. Leisurely paced and character-driven.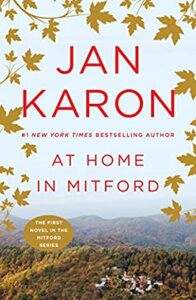 At Home in Mitford  by Jan Karon (1996)
The first in a series of novels, this heartwarming book introduces readers to a small, charming North Carolina town and its equally charming denizens. Filled with the mysteries and miracles of everyday life and rich, provincial humor.  Amusing and homespun.
Nora Goes Off Script by Anabel Monaghan (2022)
After her husband leaves her, a romance-channel screenwriter finds a new chance at love when a sexy leading man is cast to play her husband in a movie based on the script she wrote about her marriage's collapse. Upbeat relationship fiction.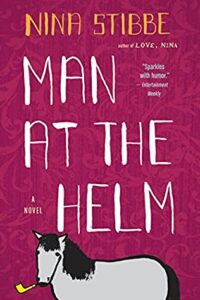 Man at the Helm by Nina Stibbe (2015)
When her charmed life is shattered by her father's abandonment, young Lizzie is forced to move to a gossipy, disapproving village where her sister and she resolve to find a new man for their dysfunctional mother. Quirky cast of characters.
Cold Comfort Farm by Stella Gibbons (1932)
First published in 1932, this classic satirical novel tells the story of sensible Flora Poste, who is orphaned at age 19. Leaving the city to go live with relatives in deepest Sussex at the aptly named Cold Comfort Farm, she meets the gloomy and eccentric Starkadder family, headed by reclusive Aunt Ada Doom. Flora's penchant for practicality and organization soon shakes things up.  Comedy of manners.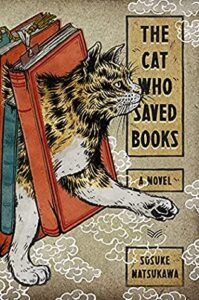 The Cat Who Saved Books by Sosuke Natsukawa (2021)
When a talking cat named Tiger demands that he help save books with him, high school student Rintaro Natsuki and Tiger embark on an amazing journey, liberating books from their neglectful owners and meeting a colorful cast of characters along the way. Hopeful and offbeat.
Bookshop on the Corner by Jenny Colgan (2016)
A "literary matchmaker" who takes joy in pairing readers with perfect books moves from the city to a sleepy village where she becomes a bookmobile driver and rediscovers her sense of adventure while searching for a happy ending of her own.  Heartwarming relationship fiction.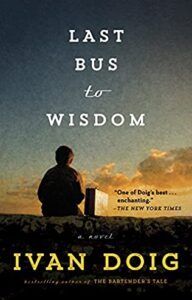 Last Bus to Wisdom by Ivan Doig (2015)
Rejected by his domineering great aunt during the summer of 1951, imaginative eleven-year-old Donal travels back to his ailing grandmother's home accompanied by his German great uncle while experiencing haphazard adventures along the way.  Heartwarming intergenerational friendship.
News from Thrush Green by Miss Read, Thrush Green series #3 (1971)
Tullivers, the former home of old Admiral Trigg and his sister Lucy, had stood empty for many months. Then, one bright April day, two newcomers move in — an attractive young woman and her son — and the villagers begin to show their interest and attention, especially several bachelors.  Gentle read set in a simpler time.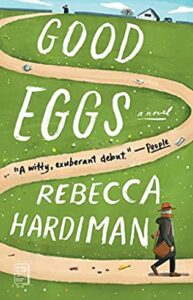 Good Eggs  by Rebecca Hardiman (2022)
Three generations of a boisterous Irish family are upended by a matriarch's shoplifting activities and an upbeat American home aide whose initial support catapults the family into the worst crisis they have ever faced. Funny and fast-paced.
This Time Tomorrow  by Emma Straub (2022)
When Alice wakes up on her 40th birthday somehow back in 1996 as her 16-year-old self, she finds the biggest surprise is the 49-year-old version of her father with whom she is reunited, and, armed with a new perspective on life, wonders what she would change given the chance. Moving and engaging relationship fiction with time travel.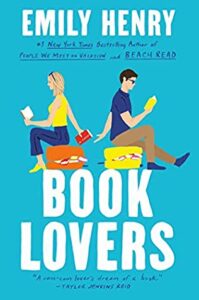 Book Lovers by Emily Henry (2022)
Agreeing to a holiday escape to the country, literary agent Nora keeps running into a bookish, hardheaded, arrogant editor she knows from Manhattan, and wishes she didn't, even as she discovers they have more in common than previously thought. Steamy romantic comedy.
Lessons in Chemistry  by Bonnie Garmus (2022)
In the early 1960s, chemist and single mother Elizabeth Zott, the reluctant star of America's most beloved cooking show due to her revolutionary skills in the kitchen, uses this opportunity to dare women to change the status quo.  Fast paced and heartwarming.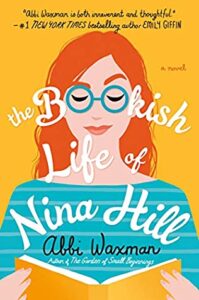 The Bookish Life of Nina Hill by Abbie Waxman (2019)
A confirmed introvert finds her simple life upended when the father she never knew passes away, revealing an enormous extended family that overwhelms her budding relationship with a fellow trivia buff. Snarky and engaging.
I Capture the Castle  by Dodie Smith (1948)
The 1934 journal of seventeen-year-old Cassandra Mortmain reveals her perspective on six stormy months in the eccentric and poverty-stricken life of her family in a ruined Suffolk castle, ending with the revelation that Cassandra is deeply in love. Witty, bittersweet.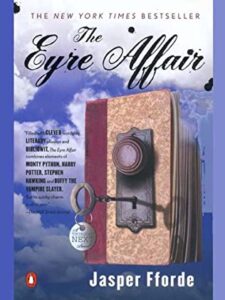 The Eyre Affair by Jasper Fforde, Thursday Next novel #1 (2002) 
In a world where one can literally get lost in literature, Thursday Next, a Special Operative in literary detection, tries to stop the world's Third Most Wanted criminal from kidnapping characters, including Jane Eyre, from works of literature. Unconventional and intricately plotted.
The Library at the Edge of the World by Felicity Hayes-McCoy, Finfarren Peninsula series #1 (2017)
Traces the experiences of a librarian on the scenic west coast of Ireland who searches for a way to rebuild her community and her own life in the wake of local estrangements. Quirky and amusing with a strong sense of place.
The Spellman Files  by Lisa Lutz (2007)
"Izzy" Spellman, a San Francisco private eye with a checkered past, has been working for her family's firm, Spellman Investigations, since age 12. Now 28, Izzy thinks she wants out of the family business, but elects to take on a cold case while dealing with her 14-year-old sister, a nightmarish Nancy Drew, and parents who have no qualms about bugging their children's bedrooms. Fast paced and funny.
My Not So Perfect Life  by Sophie Kinsella (2017)
When Katie Brenner is fired from her dream job in advertising in London, she's desperate to get away. Seeking refuge, she goes home to her father's farm in Somerset to help make her stepmother's dream of turning their land into a glamping retreat come true. Applying her savvy marketing smarts, Katie masterminds a glamorous upscale resort.  Witty relationship fiction.
If you need more reading recommendations, call us at 725-5242 or email helpdesk@curtislibrary.com.  We are always happy to help you find your next great read!