Library Closed
Hello Curtis Teens!
Hope you are safe and well, staying at home. We are heartbroken that the library can't be open for you. Even though CML is not considered an essential service (but should be, am I right?), it supplies you with computers, resources, and a place to hang out away from home. Between 700-900 people walk through the doors everyday so we had to close in order to keep you and your loved ones safe. But we are still here for you! Go to the Downloads tab above to download e-books and  e-audiobooks.  Meanwhile your teen librarian is busy working from home, planning a summer filled with fun. Email me at morth@curtislibrary.com to say "hi" or to give a suggestion of what you want us to offer during this time.
Stay strong and keep reading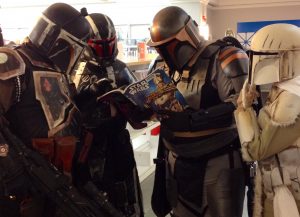 !
Melissa
Contact TEEN Staff:
All Youth Services librarians supervise the TeenZone from the Youth Services desk.
If you have a question specific to Teen Services, the Teen materials collection or programs for teens, please contact Melissa M. Orth. Pronouns = she/her/hers
Phone: 725-5242 x225 (YS Desk) or x227 (office)
Email: morth@curtislibrary.com