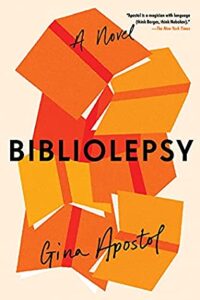 We have added more brand new books to the collection.  Click on a title to check availability and request!
Our American Friend by Anna Pitoniak (Feb 2022)
When mysterious first lady Lara Caine asks her to write her official biography, former White House correspondent Sofie Morse is wary when Lara starts sharing sensitive information, which draws her into a game of cat and mouse with explosive consequences.
Mermaid Confidential by Tim Dorsey, Serge Storms novel #25 (Jan 2022)
Dropping anchor in the Florida Keys, Serge A. Storms and his permanently baked sidekick, Coleman, become local favorites as they take a stand against investors who are trying to destroy their paradise while dealing with drug smugglers who have arrived in a hail of bullets.
Luckenbooth by Jenni Fagan (Jan 2022)
The devil's daughter rows to Edinburgh in a coffin, to work as a maid for the minister of Culture, a man who lives a dual life. But the real reason she's there is to bear him and his barren wife a child, the consequences of which curse the tenement building that is their home for a hundred years.
The Books of Jacob by Olga Tokarczuk, translated by Jennifer Croft (Feb 2022)
Nobel-prize winning author presents the comet-like rise and fall of a mysterious and charismatic religious leader, in the mid 18th century.
Bibliolepsy by Gina Apostol (Jan 2022)
The story of a young woman caught between a lifelong desire to escape into books and a real-world revolution, set in the 1980's Philippines.
The Department of Rare Books and Special Collections by Eva Jurczyk (Jan 2022)
Working in the rare books department of a large university, Liesl Weiss discovers that a priceless book has gone missing as well as the librarian, and, investigating both disappearances, learns a shocking truth that shakes the very foundation on which she has built her life.
Fiona and Jane: Stories by Jean Chen Ho (Jan 2022)
Two best friends since elementary school, both Taiwanese Americans, navigate their grown-up lives and discover their friendship strained by distance and unintended betrayals after Fiona Lin moves to New York and Jane Shen stays in California.
The Prison Minyan by Jonathan Stone (Jan 2022)
Welcome to America's only Jewish prison . . . rugelach, blintzes, and a quest for vengeance from the highest tier of the US government.
To Paradise by Hanya Yanagihari (Jan 2022)
Spanning three centuries and three different versions of the American experiment, an unforgettable cast of characters are united by their reckonings with the qualities that make us human–fear, love, shame, need, and loneliness.
The End of Getting Lost by Robin Kirman (Feb 2022)
Unable to recall the last year of her life after suffering a head injury on her honeymoon, Gina Reinhold, a young dancer, has the growing sense that her husband is keeping secrets from her as the truth grows more elusive.
Dark Horse by Greg Hurwitz, Evan Smoak thriller #7 (Feb 2022)
A former government assassin helps a South Texas drug kingpin, a man who does bad things for good reasons, after a vicious cartel kidnaps his 18-year-old daughter, in the seventh novel of the series following Prodigal Son.
The Violence by Delilah S. Dawson (Feb 2022)
When a mysterious illness sweeps the nation, resulting in sudden, explosive bouts of animalistic rage, Chelsea, who has been abused by her husband for years, uses this the opportunity to liberate herself from him once and for all.
The Christie Affair by Nina de Gramant (Feb 2022)
A beguiling novel of star-crossed lovers, heartbreak, revenge, and murder-and a brilliant re-imagination of one of the most talked-about unsolved mysteries of the twentieth century.
Brown Girls by Daphne Palasi Andreades (Jan 2022)
Four friends, all young women of color, reconcile their immigrant backgrounds that require them to be obedient, dutiful daughters, with the freedoms of American culture while growing up in a vibrant community in Queens, New York.
Love and Other Disasters by Anita Kelly (Jan 2022)
While competing on a popular cooking show, Dahlia Woodson stirs up trouble when she gets involved with a nonbinary contestant, and as their relationship heats up both in and out of the kitchen, she wonders if they have the right ingredients for a happily ever after.
This Might Hurt by Stephanie Wrobel (Feb 2022)
When she receives an email from Wisewood, an off-the-grid facility where her sister is learning to become her Maximized Self, threatening to expose her darkest secret, Natalie heads North to come clean and soon discovers that Wisewood won't let either of them go without a fight.
When I'm Gone, Look for Me in the East by Quan Barry (Feb 2022)
Tasked with finding the reincarnation of a great lama across windswept Mongolia, young monk Chulun and his estranged identical twin, Mun, who can hear each other's thoughts, traverse through this land, making a journey where faith, love and brotherhood haunts them.
If you need more reading recommendations, call us at 725-5242 or email helpdesk@curtislibrary.com.  We are always happy to help!