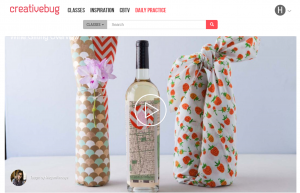 Consumable presents are always a hit among our team. Flowers, cookies, and local produce all grace our common room. If you too are fond of these vices, Creative Bug has a number of lessons on how to wrap these items. Login from CML with your library card.
Many patrons have enjoyed our ongoing series, Scrap Crafts.  In this program we utilize numerous books from our nonfiction section to create and explore accessible art and handicrafts. As we all stay at home we have continued this series virtually and will occasionally post tutorial posts so that you too can use to try out a new skill.
Today we want to highlight a few projects to support material reuse, eco wrapping and reusable containers! Your presents can be green and gorgeous. We often use left over fabric or much needed new shirts to wrap gifts. Check out Creative Bug for their suggestions to make homemade bags
or how to use wrapping material you have around.
Alternatively, I sometimes reuse paper and turn them into origami boxes. This works especially well with children's paintings. Sometimes these same painted pieces are beautiful, but too small to reuse as large boxes. Luckily, they can rescue any ugly tins or hard to recycle containers that you may have sitting about your house or your neighbor's recycling. (If they have ugly insides you can always decoupage those as well.)
I used to underestimate decoupage because I worried about the sustainability of glue. * However, now there are eco options, and I enjoying decoupaging with the young ones in my life. Here you can see a project completed with old wrapping paper and a found tin. This project actually used the leftovers of a standard white glue, which does dry clear, but is made of Polyvinyl acetate. (I am using what I have but am not purchasing more.)
Decoupage is extremely easy. Gather your materials, cover your object in glue, add the paper and then cover in glue again. This picture captures the process:
Yet, there are a lot of aesthetic considerations in where and what to layer, so if you are inexperienced I suggest laying our a design you like (and take a picture) prior to applying the glue. If you work to layer pieces over each other rather than aiming to layer them side by side you will run into less issues with shrinking paper, or edges that somehow move and reveal the background your original structure. Additionally, you will see that if you use certain types of paper, some will curl as they're drying, or lift off of container. As you become more experienced, you'll learn what you have to press and what you don't, but until then, remember… you can always peel something off or add more glue. Save your handmade one-of-a-kind layer for your second project.
While I was enjoying the disco-ball look of this tin, my co-designer suggested that we add some variety to the decoration. If you also want to do this, check out our many copyright free collections of images, usually published by Dover, by browsing the shelves of  this call number. Few public libraries stock FREE to use and adapt image repositories like these; this is another CML treasure.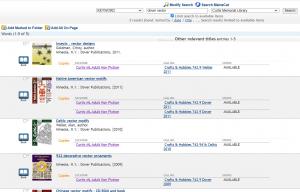 Done with your container? Don't forget to use a long strip of fabric or paper to add a bow. Don't know how to make it look like you want? Creative bug can help.
Enjoy!
*I like my materials to harmlessly or beneficially compost or last forever; the glue I had access to, and knowledge of, did not seem to meet my criteria. At present glue consists of a type of plastic or other non-biodegradable compound. Traditionally, glue was not vegan since gelatin-like substance was used, and often, a glutenous substance (including actual gluten) was used. In the modern era glue is used for A LOT, where, previously humans may have done without, or relied on knots, joinery or other clever work-arounds with the tools we had. I adore the chart by Make Magazine to illustrate the importance of using the correct bonding agent for the job, but recognize that this adhesion matrix is not infinitely compostable, nontoxic or recyclable.