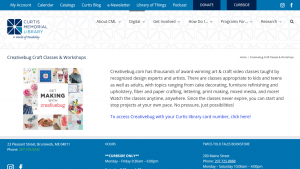 You still have time in 2020 to learn some new skills while social distancing. Here are some options easily accessible with your library card. Request some tools from your local library, login to Creative Bug at CML's portal, and accomplish your new goals!
Learn to Sew
Borrow a standard or serger sewing machine to use up some of your thrifted thread and fabric. Creative Bug has a large number of beginning sewing classes. Adapt a peice of clothing you don't like, or cut up some old sheets to make some beeswax wraps with another Library of Things kit.
Learn to Crochet or Knit
Interested in utilizing our large collection of crochet or knitting books? Don't forget to check our beginner (crochet or knitting) kits, and borrow the right sized crochet hook or knitting needles for your next project. Sharing tools lets us all create more.  Creative Bug has dozens of easy projects to get you started.  I like crocheting eco-friendly scrubbies with extra hemp garden twine, and knitting quick projects with thick local or fair-trade yarn when I run out of hand-me-down sweaters or shirts.
Try out a New Craft
Check out our Library of Things Craft Kits to explore unique crafts that range from Medieval rope-making with a Lucet to modern soapstone tools. Share what you've made on Instagram or Facebook and tag CML!