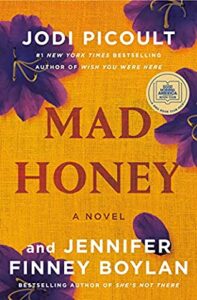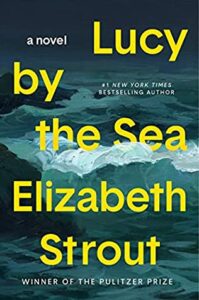 Are you one of 300 people on hold for Lucy by the Sea by Elizabeth Strout? Or waiting for Our Missing Hearts by Celeste Ng (175 holds)?  Are you eager to read the latest by Lee Child, John Grisham or Stephen King? If so, check the Bestseller Express shelves — it just might be your lucky day!  We have those novels as well as lots of other popular titles.  The Bestseller Express  is a collection of popular books, sponsored by the Curtis Friends, and available only to Curtis patrons. They cannot be reserved or renewed — check out period is 7-days.
Lucy by the Sea by Elizabeth Strout (300 Holds)
Former married couple now lifelong friends, New Yorkers Lucy Barton and William, as a panicked world goes into lockdown, hunker down in a little house in Maine on the edge of the sea where they are faced with fear, struggles and isolation as well as hope, peace and possibilities.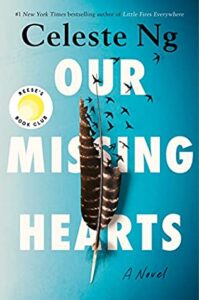 Our Missing Hearts by Celeste Ng (175 Holds)
In a society consumed by fear, 12-year-old Bird Gardner, after receiving a mysterious letter, sets out on a quest to find his mother—a Chinese-American poet who left when he was 9 years old—leading him to NYC where a new act of defiance may be the beginning of much-needed change.
Mad Honey by Jodi Picoult and Jennifer Boylan (143 Holds)
Her life upended when her husband revealed a darker side, Olivia MacAfee and her teenage son Asher move back to her New Hampshire hometown for a new beginning until Asher is implicated in the death of his girlfriend and she realizes he's hidden more than he's shared with her.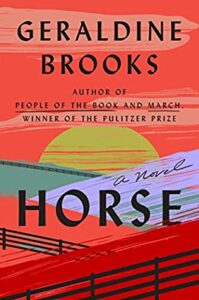 Horse by Geraldine Brooks (142 Holds)
A scientist from Australia and a Nigerian-American art historian become connected by their shared interest in a 19th century race horse, one studying its remains, the other uncovering the history of the Black horsemen who were critical to its success.
Fairy Tale by Stephen King (131 Holds)
Charlie Reade, he carries a heavy load. His mom was killed when he was ten, and grief drove his dad to drink. Charlie learned how to take care of himself—and his dad. When Charlie is seventeen, he meets a dog named Radar and her aging master, Howard Bowditch, a recluse in a big house at the top of a big hill. Charlie starts doing jobs for Mr. Bowditch and loses his heart to Radar. Then, when Bowditch dies, he leaves a cassette tape for Charlie, telling him the secret he has kept secret all his long life and it is unbelievable!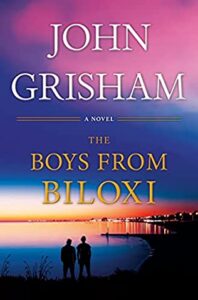 Boys from Biloxi by John Grisham (124 Holds)
For most of the last hundred years, Biloxi was known for its beaches, resorts, and seafood industry. But it had a darker side. It was also notorious for corruption and vice, everything from gambling, prostitution, bootleg liquor, and drugs to contract killings. The vice was controlled by small cabal of mobsters, many of them rumored to be members of the Dixie Mafia. Keith Rudy and Hugh Malco grew up in Biloxi in the sixties and were childhood friends, as well as Little League all-stars. But as teenagers, their lives took them in different directions. Keith's father became a legendary prosecutor, determined to "clean up the Coast." Hugh's father became the "Boss" of Biloxi's criminal underground. Keith went to law school and followed in his father's footsteps. Hugh preferred the nightlife and worked in his father's clubs. The two families were headed for a showdown, one that would happen in a courtroom. Life itself hangs in the balance in The Boys from Biloxi, a sweeping saga rich with history and with a large cast of unforgettable characters.
It Starts with Us by Colleen Hoover 112 Holds
Lily and her ex-husband, Ryle, have just settled into a civil co-parenting rhythm when she suddenly bumps into her first love, Atlas, again. After nearly two years separated, she is elated that for once, time is on their side, and she immediately says yes when Atlas asks her on a date. But her excitement is quickly hampered by the knowledge that, though they are no longer married, Ryle is still very much a part of her life–and Atlas Corrigan is the one man he will hate being in his ex-wife and daughter's life.
No Plan B by Lee Child, Jack Reacher novel #27 (104 Holds)
In Gerrardsville, Colorado, two witnesses to the same tragedy give two different accounts. One guy sees a woman throw herself in front of a bus in what authorities will call a suicide. The other witness is Jack Reacher. And he sees what actually happened: A man in a gray hoodie and jeans, moving like a shadow, pushed the victim to her death-before swiftly grabbing the dead woman's purse and strolling away. Reacher follows the killer on foot, not knowing that he is part of something much bigger and far-reaching . . . a secret conspiracy with many moving parts, with powerful people on the take, all involved in an undertaking that leaves no room for error. If any step is compromised, the threat will have to be quickly and quietly and permanently removed.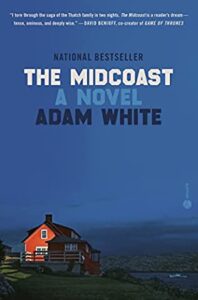 The Midcoast by Adam White (96 Holds)
Recently returned to a tourist haven on the coast of Maine, Andrew, a high school English teacher, is envious of his former friend Ed Thatch's extravagant new lifestyle until he stumbles upon the truth, finding his envy turning to horror as the true story of the Thatches begins.
Long Shadows by David Baldacci, Amos Decker novel #7 (64 Holds)
When Amos Decker is called to South Florida to investigate a double homicide, the case appears straightforward: A federal judge and her bodyguard have been found dead, the judge's face sporting a blindfold with two eye holes crudely cut out, a clear sign that she'd made one too many enemies over her years on the bench. Decker must contend with a series of unsettling changes, including a new partner—Special Agent Frederica "Freddie" White—and a devastating event that brings Decker's own tragic past back to the present.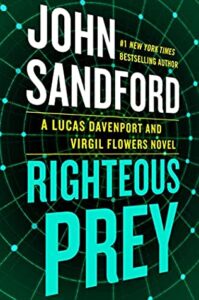 Righteous Prey by John Sandford, A Lucas Davenport/Virgil Flowers novel (64 Holds)
"We're going to murder people who need to be murdered." So begins a press release from a mysterious group known only as "The Five." They target rapists, murderers, and thieves and use their unlimited resources to offset the damage done by those who they've killed, donating untraceable Bitcoin to charities and victims via the dark net.
Fellowship Point by Alice Elliott Dark (64 Holds)
Celebrated children's book author Agnes Lee is determined to secure her legacy–to complete what she knows will be the final volume of her pseudonymously written Franklin Square novels; and even more consuming, to permanently protect the peninsula of majestic coast in Maine known as Fellowship Point. Agnes's designs are further muddied when an enterprising young book editor named Maud Silver sets out to convince Agnes to write her memoirs. Agnes's resistance cannot prevent long-buried memories and secrets from coming to light with far-reaching repercussions for all.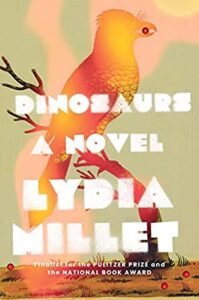 Dinosaurs by Lydia Millett
The story of a man named Gil who walks from New York to Arizona to recover from a failed love. After he arrives, new neighbors move into the glass-walled house next door and his life begins to mesh with theirs. Millet explores the uncanny territory where the self ends and community begins-what one person can do in a world beset by emergencies.
Distant Thunder by Stuart Woods, Stone Barrington series #63
During an intense storm in Dark Harbor, Maine, a perplexing murder lands a dead man on Stone Barrington's doorstep. As secrets swirl around this mystery man's identity, Stone quickly sets out to unravel a web of cunning misdirections and lies.