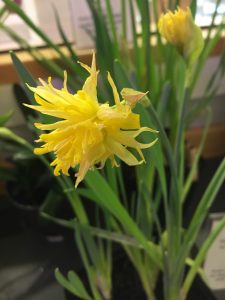 We are forcing bulbs for Wintertime Bloom and you can too!
For the past five years, we've planted bulbs in November in preparation for the Bloom Collaboratory in March. Although the Collaboratory is closed for now, we're back with our hands in the dirt. The pandemic won't stop us from sharing the beauty of Tête-à-Têtes and Triumph Tulips again as the late winter snow begins to melt in 2021. We invite you to follow along with us as we tend the bulbs through the winter, and maybe plant some of your own.
There are lots ways to force hardy bulbs, like daffodils and irises, which need a winter-like period of dark and cool. Here's what we did with the aim of enjoying blooming flowers in February or March.
This year, we will force daffodils and tulips. If you plan to force bulbs this year, we recommend buying them ASAP. Since people are spending more time at home, bulbs are in high demand.
We used clean pots and fresh potting soil.  We bleached pots we had used from previous years – though you certainly don't have to –using one part bleach and nine parts water.  Bleach is used to disinfect the pots and prevent growth of disease that might be present from last year's soil and plants.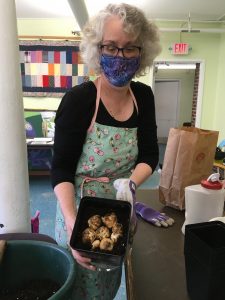 We planted 7 Tête-à-Tête daffodills in each pot. We watered thoroughly.  For the next 8 to 10 weeks, the bulbs need to be in a dark and cool environment. We are lucky to have a fridge available to mimic the dark, cold of winter. (There are plenty of other places to help the bulbs chill out: mudrooms, garages, cold frames, even in the garden bed. The key is to keep them in a cold (but not freezing) dark place.)
We keep our bulbs in the fridge at around 48°F and cross our fingers that the bulbs would be comfortable and set to work growing roots. (Sometimes fridges can be too chilly for bulbs.) One caveat for using a refrigerator is not to store fruit in the fridge with the bulbs. Some fruits, particularly apples, release ethylene gas, which stops the flowers from developing.
No Apples in the 'Fridge!
We'll keep the soil moist throughout the winter, watching and watiting for the little shoots to poke through.
Happy planting,
Pamela and Diana
P.S. If you want to learn more about forcing bulbs, here are some books to consult:
Bulb Forcing for Beginners and the Seriously Smitten by Art Wolk
Bulbs: The Time-Life Gardener's Guide
Beautiful Bulbs: Simple Secrets for Glorious Gardens – Indoors and Out by Georgeanne Brennan and Mimi Luebbermann
If you have questions, send us an email at refdesk@curtislibrary.com or call 725-5242.  We are happy to help!