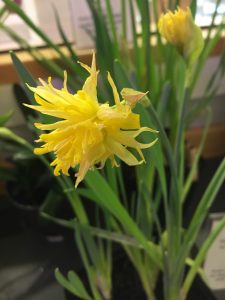 In early December, we planted Tete-a-tete minature daffodills, Triumph tulips, Persian Pearl Botanical tulips and Rip Van Winkle daffodills in pots.  We put them in a refrigerator, set at about 48 degrees.  We keep watering them – about once a week.  It is exciting to see them start to grow.  It has been about ten weeks since we potted up our first bulbs for forcing and now it is time to start putting the pots in sunlight so they can continue to grow.  Here is what they look like after ten weeks in the refrigerator:
When the shoots are about an inch tall, it is time for them to get some sunlight.
We move them to a room with windows kept at 55 degrees.  Here they are after one week in the sun:
If you would like to learn more about forcing bulbs, check out:
Bulb Forcing for Beginners and for the Seriously Smitten by Art Wolk
We are looking forward to "sharing" our blooms with you soon!
Pamela & Diana