The Ma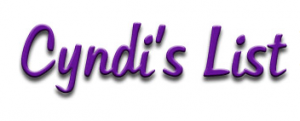 ine Genealogical Society Events Committee has not been hibernating this winter.  We are currently putting the finishing touches on the April 18th Workshop in Augusta. The focus of the workshop is researching your family on the internet.   We will be welcoming Cyndi Ingle of Cyndi's List to Maine.  She will be our only speaker that day and she is the expert on finding family history sites on the internet.
New digital repositories seem to spring up everyday and current sources become more robust as digitizing becomes easier.  Cyndi will help us navigate these resources and also share a little of what she has seen change in online resources over the two decades she has been curating her list. She has prepared a special presentation on Maine research as well.
I am excited to be part of the planning team and am looking forward to meeting Cyndi in person. As a researcher and volunteer I often find people giving up on internet resources when they "don't find it on Ancestry" I spend a lot of time pointing out that the web is full of niche resources and fascinating stories if you are willing to do the sleuthing.  Cyndi's List is the Genealogy Map of the Information Super Highway (remember when we called the internet that?). With over 300,000 links there is sure to be something that will help you move your research forward.
The workshop fee of $55 for Maine Genealogical Society (MGS) members and $70 for non-members includes a full day of education, lunch and entry for one of our fabulous door prizes. If you are considering joining the MGS please do that a day before you register, this gives the system time to recognize you as a member for the lower rate.  A flyer for the conference is available, but you can always find more information, including the topics Cyndi will be speaking about and register online at The Maine Genealogical Society website.
Please pass the word and bring a friend.
Lynne Holland, guest blogger and Curtis Genealogy Volunteer