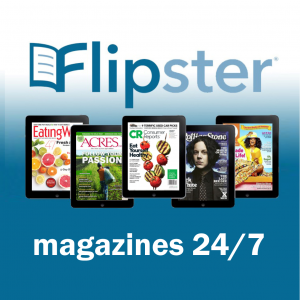 While the building may be closed , our digital options are more robust than ever! Use your library card to access audio books, ebooks, and magazines.
cloudLibrary app for ebooks and audio books. Recently, over $60,000 in new content added due to increased demand during building closures.  You may borrow up to three books at a time and place holds on books that are checked out.  The"Lost in the Stacks" shelf is a list of over 300 items that are available now or very soon.
Flipster downloadable magazines. Read digital versions of popular magazines on your phone, tablet or computer. Popular titles include Consumer Reports, The New Yorker, People, Entertainment Weekly, Food Network Magazine, Newsweek, and SO MUCH MORE!
Romance BookCloud  sponsored by TumbleBooks.  Unrestricted and unlimited access to a curated collection of romance ebooks. Read to your heart's content! TumbleBooks' is easy to use, and features unlimited access from home. Patrons can read as many books as they want, when they want, and on any device. There are no check-outs, holds, or downloads. Books are available instantly.